Carlo's Table














Pool Teams
Pool teams are are small group of players, drawn to the game of pool, who form a team and join a league for the purpose of playing other teams. Hopefully beating the opponents brains in every game.
13-12 is a great match, especially if it is determined by the last game. 17-8 is a trouncing. 20-5 is being crushed. 25-0 and you can buy cues very, very cheaply.
You pay weekly dues, win some money back at the end of the year, take it to Las Vegas and leave it there. It is a remarkably efficient system.

Teammates come in all sizes, shapes, ages, and temperaments. Different work ethic, financial condition and honesty are also variables.
Putting together a decent pool team is like having 5 people marry 4 people each. The chances of having 20 simultaneous marriages that work are slim and none. The only reason it has a chance is that none of you live in the same household. Hopefully.
Leagues include BCA, VNEA, APA and a raft of others, including local franchises of the above "Big 3" leagues.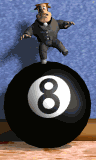 Check out some history and sage advice in the articles listed on the left. Some decent pool hall food at those Dallas pool & cafe places, too.
Carlo
Nobody paid me any money to put these links here, I just thought they deserved it. Tell them Carlo sent you, maybe they'll buy me a beer.